THE PLANETARY LINE
Welcome to a new kind of musical instrument for Kontakt, ORBIT and ECLIPSE, designed for easily creating stunning synths, pulses and atmospheric textures. With our critically-acclaimed intuitive interface, you can create rich, deep results in the blink of an eye.
Power meets simplicity.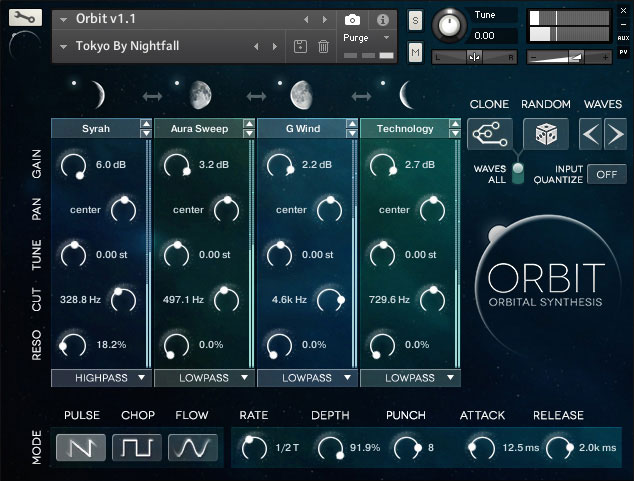 Each MOON functions as a mute button. Useful for programming & tweaking sounds. ⌘ (or ctrl) + click = Solo. ____________________________________ ARROWS swap Orbit positions in the playback sequence.

SOUND SELECTOR MENU: Choose and select any one of the 101 sounds available for each Orbit.

CLONE duplicates the settings of Orbit No. 1 (furthest left) and applies it to the other three Orbits. This makes for the most stable sound possible, which is sometimes desired.

RANDOM assigns random sound-sources to all four Orbits, without changing any other settings. A surprisingly useful starting point for creating your own sounds. ____________________________________ HOTKEY: ⌘ (or ctrl) + click will also randomize the primary ORBIT Controls, but in a semi-intelligent way.

WAVES moves all four Orbits to the previous / next soundsource in the soundsource list. This is useful when you want some of the sounds to match, but want to quickly audition new sounds.

Changes the effect of the CLONE and RANDOM buttons. Do you want to affect all the channel parameters, or just the sample selection?

Automatically quantizes your playing, so you can hear perfect pulses without recording to your DAW and quantizing manually.

This is our pretty logo. It doesn't currently have any functionality in the instrument... but we have some things in mind.

ORBIT CONTROLS: Use Gain, Pan, Tune, Cut & Resonance to refine your sound. ____________________________________ HOTKEY: Hold ALT while adjusting a knob to relatively adjust the parameter across all four Orbits.

PULSE Mode: Each orbit starts at full volume before beginning the next - using a sawtooth LFO.

CHOP Mode: Create rhythmic slices of sound using a pulse-wave LFO.

FLOW Mode: Crossfades between Orbits - the perfect tool for creating pads & smooth evolving soundscapes.

FILTER MENU: Lets you select filter type for each Orbit: Lowpass, Bandpass or Highpass. There is an additional Global Lowpass on the Effects Rack page.

RATE: Sets the amount of time for each Orbit rotation, clocked to your DAW

DEPTH: Sets the amount (the depth) of the pulse fed to each Orbit.

PUNCH: determines how punchy the Pulse is. In Chop Mode, this parameter is called GATE.

ATTACK & RELEASE adjust the attack & release time of ORBIT's main volume envelope.

Point to each of the controls to see their function.
---
ORBITAL SYNTHESIS
The Orbital Synthesis engine morphs between four creative sound sources to create amazing tonal pulses, edgy hybrid rhythms, and dreamy atmospheric beds, all evolving infinitely over time.
"I can't remember a synth where
I've had so much fun."
MusicTech Magazine
---
TRIPLE ENGINE DESIGN
At the heart of ORBIT and ECLIPSE lie three distinct rhythmic engines.
pulse
Create modern percussive elements with Pulse Mode
chop
Craft an electronic or stuttered style with Chop Mode
flow
Produce
one-of-a-kind pads and textures with Flow Mode
You can even morph between the modes seamlessly and in-time, using the sequencer.
vs
orbit
VERSATILE AND
INSPIRING
ORBIT is designed for the rapid creation of stunning cinematic synths and atmospheric textures. Design dreamy, mysterious, or dark soundscapes using the universe of sound open to you in ORBIT.
Witness the power of the engine that drives ORBIT and ECLIPSE:
---
These demos are 100% ORBIT, except drums and where noted. You will find most of these sounds in Orbit's generous patch library.
---
eclipse
DARKNESS HAS
A NEW NAME
ECLIPSE pioneers new sonic territory, with massive sound that is heavy, forceful and aggressive. Produce epic modern synths with the custom-tailored soundsources, FX, filters and 250 presets available on the ultimate sound creation station.
---
Watch the trailer:
These demos are 100% ECLIPSE, except drums and where noted. You will find most of these sounds in Eclipse's generous patch library.
LOVE FROM OUR ARTISTS
SOUND-SHAPING NIRVANA
---

---
The effects page effortlessly sculpts your sound with delays, multiple modulations, diverse distortions. It also showcases a special convolution engine that that includes both practical creative impulses and beautiful reverbs from world-class hardware units that are commonly used in cinematic production.
---

---
ORBIT and ECLIPSE have 4 independent sequencers that modulate 24 useful parameters to further the creation of interesting, musical, and evolving sounds. Each sequencer has its own playback rate and extends up to 64 steps.
Automatically geerate new patterns, or process what's already there in dozens of innovative ways. Then play it forward, reverse, both, or even random. Beautiful sequences are only a click away.
"It's a no-brainer..
a veritable secret weapon."
Keyboard Magazine
What do the people think? We're glad you asked
Welcome to a true universe of sound
With over a quarter-billion starting points, it's virtually impossible to come up with the same sound as someone else. Yet with so much control, creating amazing sounds is eons faster than with any other synth.
*ORBIT. ECLIPSE has 62 million.
Native Hardware Integration
NKS enables intuitive, seamless interaction between plug-in instruments and KOMPLETE KONTROL S-Series keyboards and MASCHINE hardware.
"Sounds phenominal…
and worth every penny."
Computer Music Magazine
---
LAUNCH YOUR CREATIVITY TO NEW HEIGHTS
Enter a new, uncharted universe of sound today.
---
BUY NOW
---
All Wide Blue Sound purchases come with:
Fun, intuitive UI that will have you designing immediately
4 Powerful Modulation Sequencers: pencil tool not required
Full FX Rack with fine-tuned Convolve Engine
Instant Download via WBS Amazon Cloud
Lifetime free updates and our revered support
---
Wide Blue Sound products are powered by Kontakt or free Kontakt Player 5.5.2+
Don't Miss A Beat
Sign up for the Wide Blue Letter today and get your inspiring ORBIT: LOOPED bonus loop pack, free of charge — this is a limited offer that you won't find anywhere else!
Signing up also means you will be the first to know about our latest contraptions, projects, and mischievous behavior…